Got MILK? I hope you can get some, because, in this hilarious RPG based twin stick shooter, you'll need it to save hell from those filthy humans!
In BDSM, you play as Lou, the son of the devil himself. The story starts 30 years after the USA Army Force invaded and conquered Hell, turning it into Hell for the residents of Hell! Tons upon tons of tourists and capitalist companies infest the place and it's your duty as the son of the devil to clean up hell and claim what was formerly great!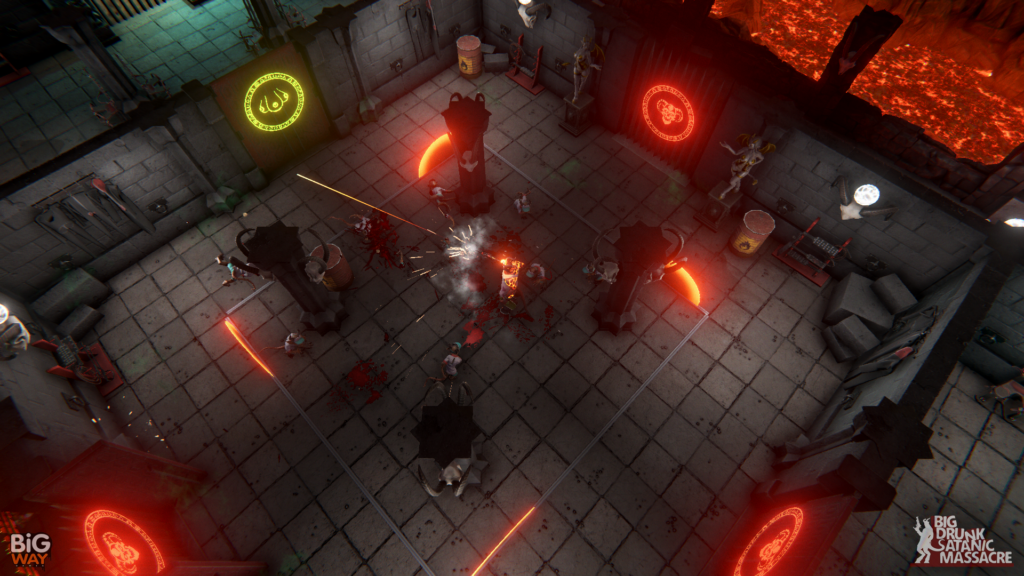 The game takes place over 4 chapters, each chapter is set in its own different location of Hell. Every chapter consists of you blasting off waves of enemies using an arsenal of weapons including a revolver, shotgun, automatic assault rifle and more most of the time. Adding to that, there are additional objectives such as rescuing caged NPC's, all the chapters end with a really challenging boss fight.
As you continue hacking and blasting through hell, you'll also have the ability to earn points and upgrade various stats, adding a compelling RPG element to the game. Each stat has four levels to improve upon: the amount of ammo you can carry, the size of your HP bar, how easily and quickly your rage meter fills up, or how many jugs of MILK you can carry. These will increase your chances of surviving in this Hell of a… Hell?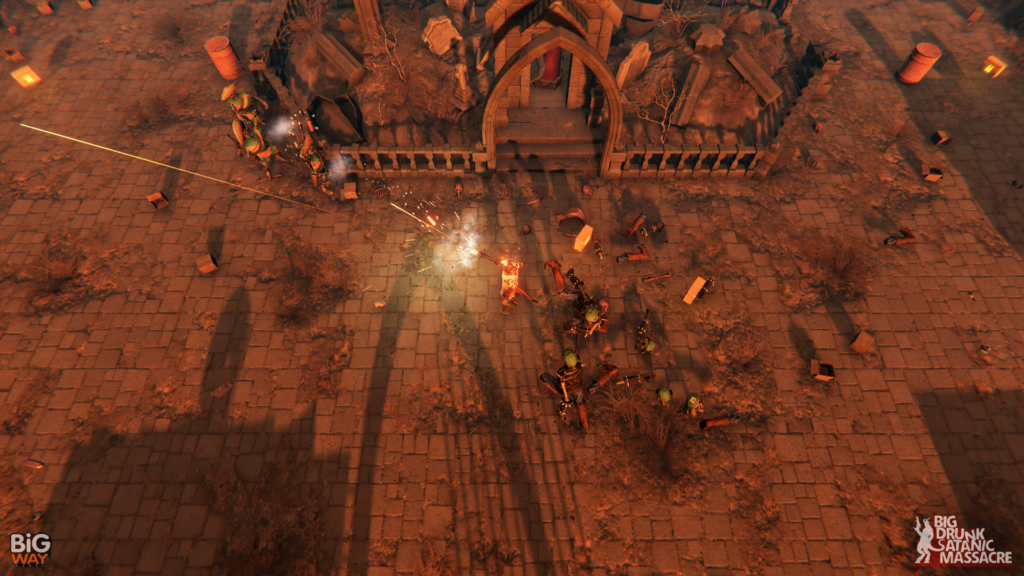 Different from standard RPG twin-stick game-play a bit, each weapon has an additional function activated with the R button. For example, you can spray a full cylinder in one go, which is great for shaving swarms of smaller enemies, and the automatic assault rifle has a grenade launcher that blows huge bulks of hp off the bigger and more formidable foes. On top of that you have your rage meter. collecting red orbs from killed enemies fills up the meter, and once it's full you can unleash a blazing ray of fire that melts and vaporizes normal enemies and makes you invincible for a short period. It's a good last resort plan if you're finding yourself overwhelmed.
Full of pop culture references that'll get you cracking every dialogue and say "Hey, I recognize that reference!" BDSM is all things action: guns, violence, sex, booze (excuse me, it's MILK), and comedy. Since it actually does all of these things pretty well it's hilarious. The overly NSFW dialogues and complimentary doom like art-style are making it.
Even though the game is having pop culture references everywhere the game holds it's own charm, and keeps being original, making it funny and entertaining.
BDSM: Big Drunk Satanic Massacre is available on the Nintendo Switch for 29.99$.