I must admit, Strategy games were never my cup of tea as I consider myself more of an action\platformer guy and still despite this when I first started playing Siegecraft Commander something was different.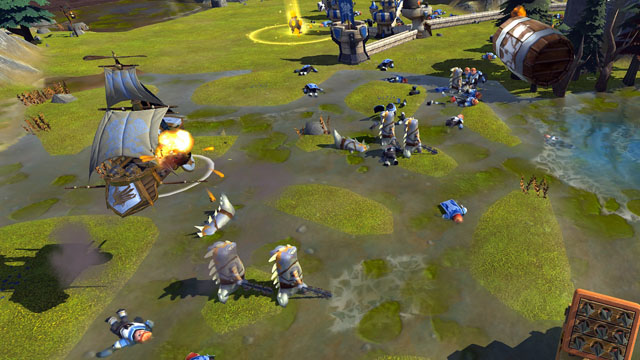 So, what's it about?
You play as a fleet of knights aboard a flying ship who crashes to the ground and now needs material in order to repair the ship but unfortunately, they land on Inhabited land and must conquer it before they can use the land's resources. The intro and the tutorial despite the bad voice acting were still pretty amusing and the premise is light-hearted and doesn't take itself too seriously which is part of the game's charm.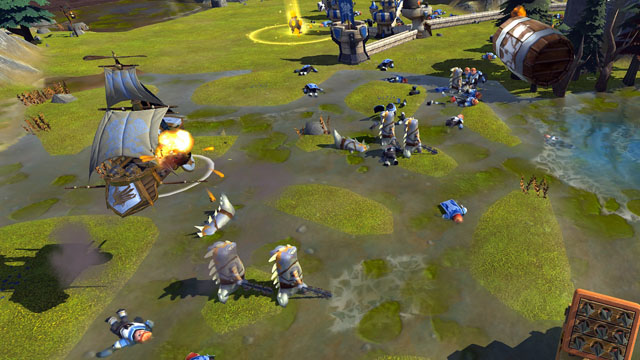 And how does it play?
The main goal in every level of the game is to clear a certain area from enemies and for that, you'll need to build a chain of bases each with its own unique part and together the player will need to attack fast and hard but also keep his own base safe and sound. As the game progresses more and more you're given more options and various upgrades which some of them are familiar from other medieval setting based games there are some of them which resemble the legendary WORMS titles in regards to how wacky they are. Like, who wouldn't want to launch a cow towards an enemy's base? I swear that when I saw that it made me stop the game just to finish laughing. The game is fairly easy to understand even for beginners like me which is surprisingly good considering many games assume that you've already played the genre before.
How does it sound?
The music is very bombastic like any other middle-aged based media but also can take a more subtle approach with light and low tunes that are very menacing which is very suited for this type of play but doesn't stand out very much from other games and the voice acting in the cutscenes are just bad which is a shame due to how it was supposed to be a comedy centered game.
Final Verdict
Siegecraft Commander is great, it gives the real RTS exactly,  but doesn't forget to take it easy once in a while. It's fresh and also very fast-paced at the more advanced levels which will make the player react to threats swiftly and strongly but on the other hand, take it easy in the first steps for newcomers.
Deal!
Siegecraft Commander is available on Nintendo Switch, PS4, Xbox One and PC through Steam(The PC Steam edition also include VR mode which I couldn't review since I don't have a VR set)